Cellular responses to injury
Introduction
In response to environmental changes, cells have to adapt in the face of physiological and pathological stimuli that seek to disturb their normal homeostatic milieu. This process is called cellular adaptation and includes mechanisms such as an increase in cell size (hypertrophy) or an increase in cell number (hyperplasia) . Other examples of cellular adaptation include metaplasia , which can be defined as a change in the differentiation of a cell (see Ch. 6 ). When there is failure of normal cellular differentiation, this can result in dysplasia and neoplasia . These concepts are covered in detail in Ch. 7 .
If the change in the cellular environment is greater than the capacity of the cell to adapt, then cell injury results ( Figs 2.1–2.3 ). This may be reversible, if the cell returns to its normal environment, or irreversible, if the environmental insult continues. Irreversible cell injury leads to cell death. Cells may die by unprogrammed means, necrosis , or programmed means, apoptosis. Not all cell death is harmful. Apoptosis is an important process by which normal cell numbers are maintained, e.g. in menstrual endometrium. Autolysis is a process commonly seen in post mortem tissues, by which cells breakdown by an enzymatic process of self-digestion. If the enzymes causing the cell to breakdown are derived from outside the cell, then the process is referred to as heterolysis .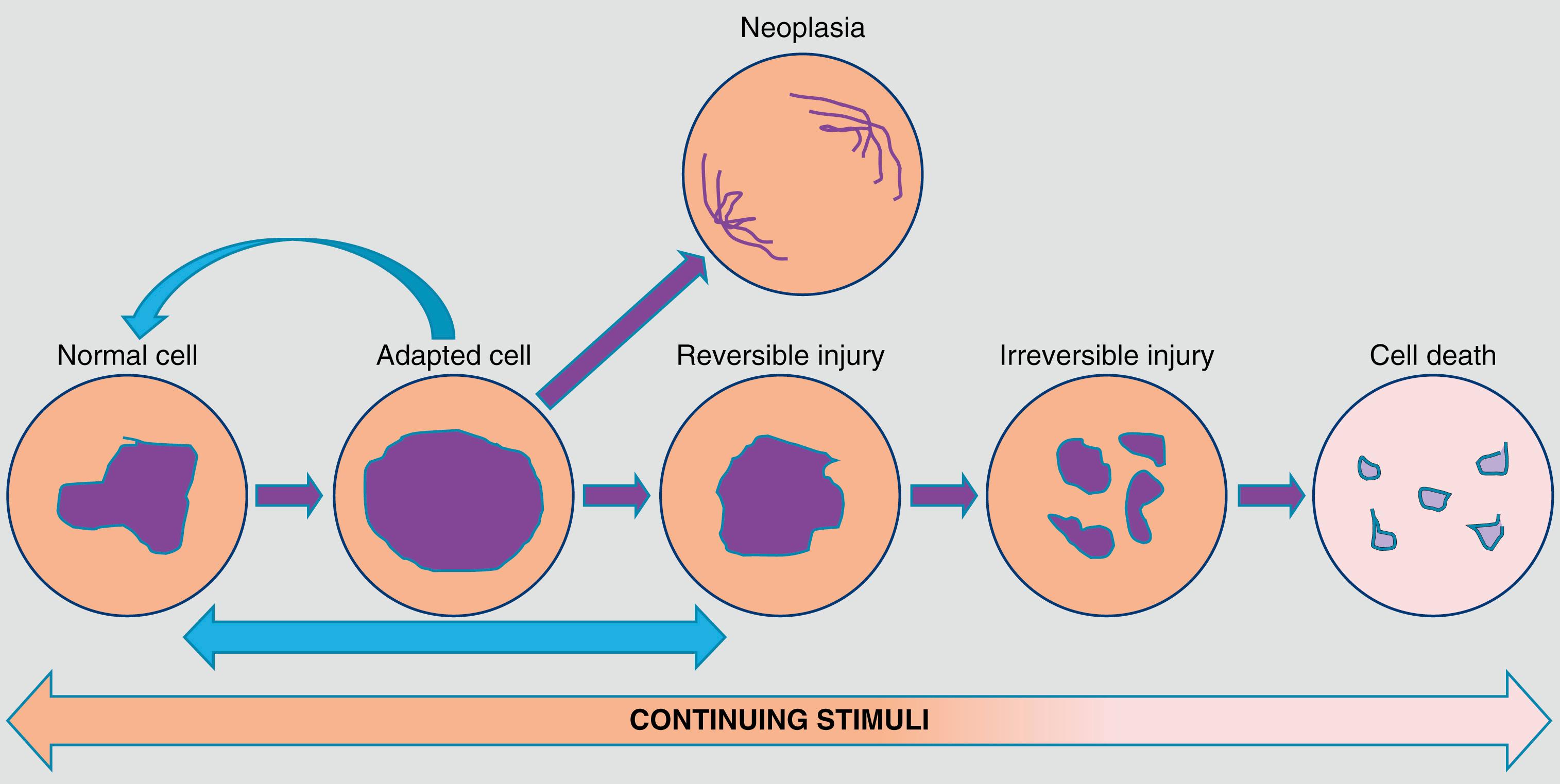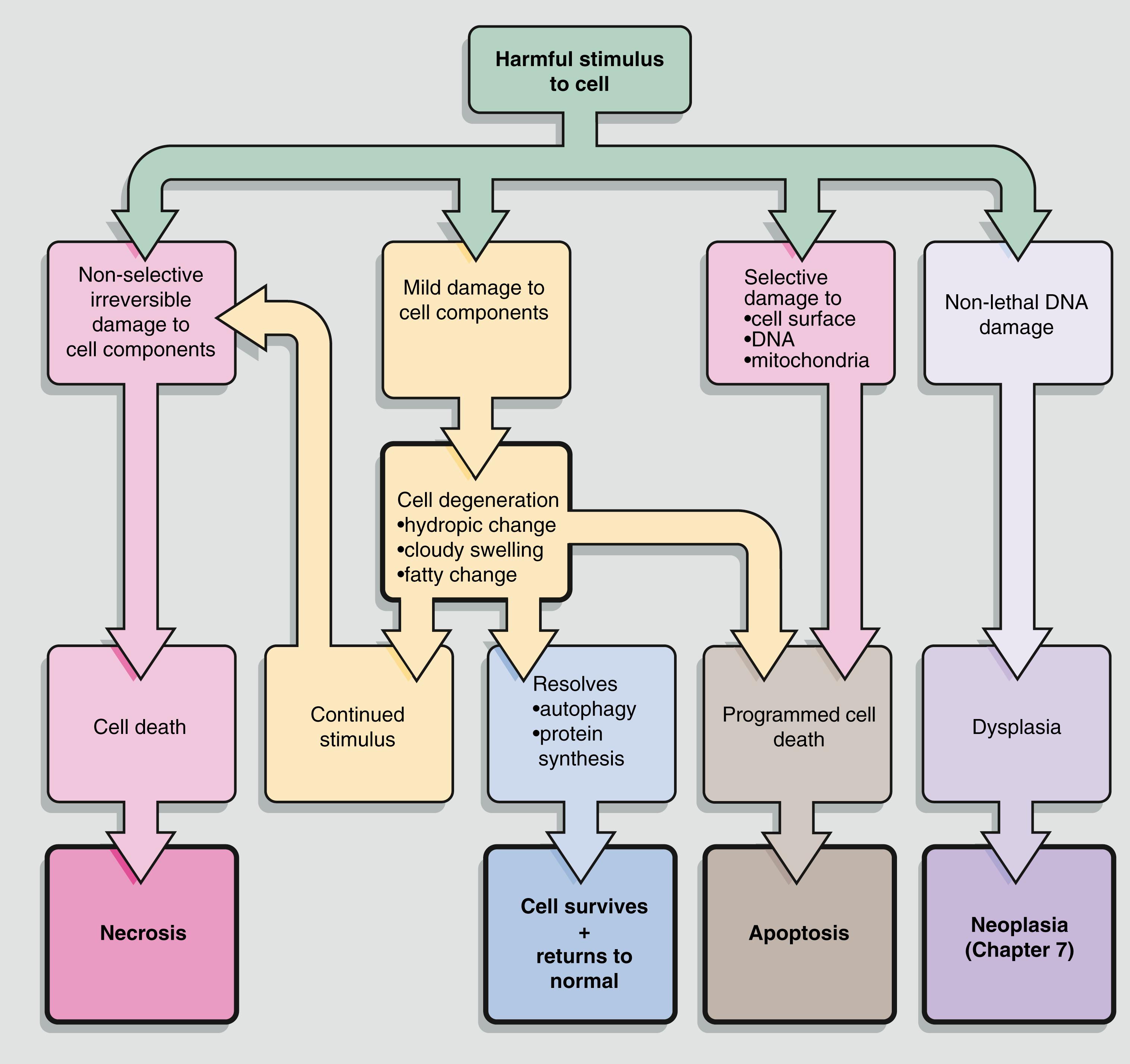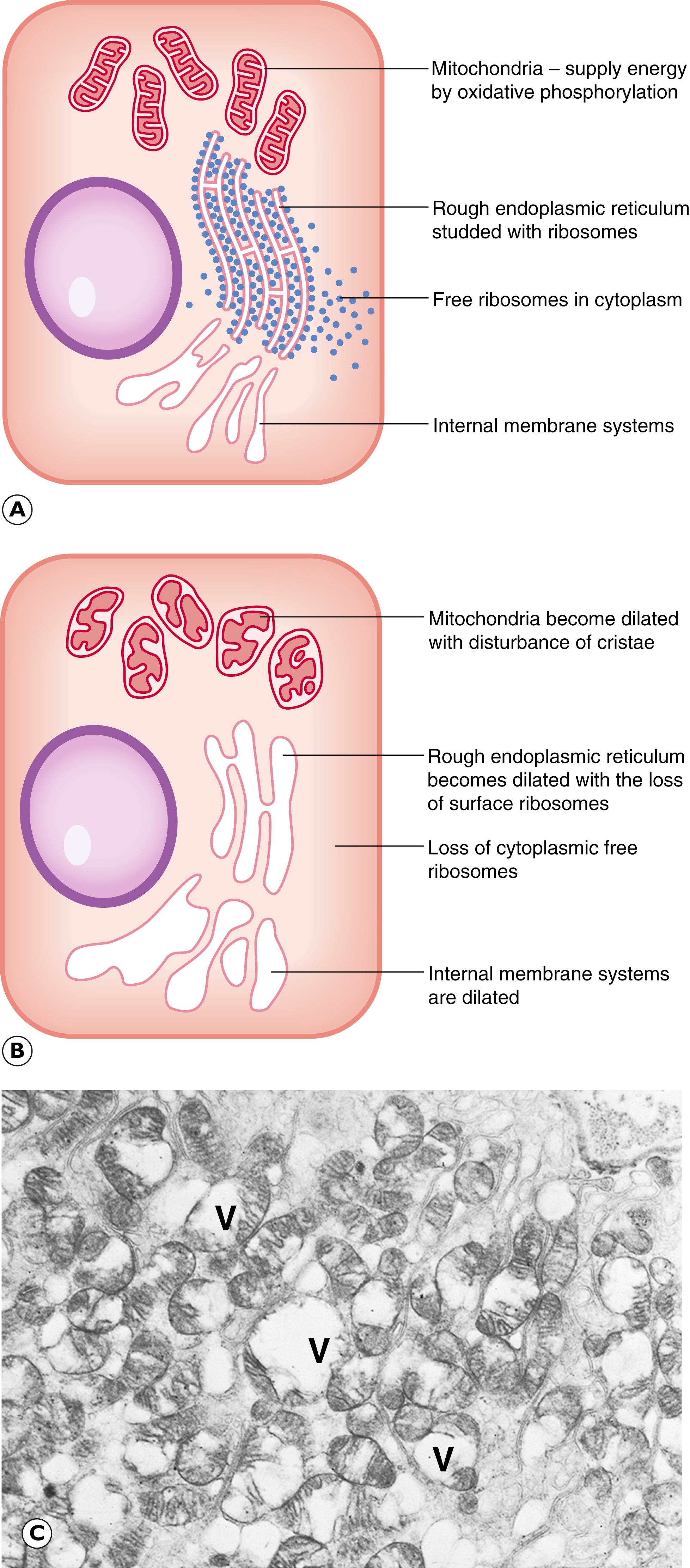 H hydropic degeneration N nucleus V vacuole
When taken to excess as in the case of an overdose, many drugs can lead to toxic liver injury (hepatotoxicity). Examples include alcohol (see Ch. 14 ) and carbon tetrachloride.
The drug paracetamol (acetaminophen) is a commonly used simple analgesic medication. When taken to excess (drug overdose) , paracetamol acts as a hepatotoxin causing a particular type of damage to the liver known as centrilobular necrosis (see Fig. 2.6A )
The hepatocyte necrosis is caused by a toxic metabolite of paracetamol (acetaminophen) called N-acetyl-p-benzoquinone imine (NAPQI) ,which is produced specifically around the central lobular region where drug metabolism usually takes place within the liver.
Treatments for acute hepatotoxicity caused by paracetamol (acetaminophen) overdose include medical therapies such as N-acetylcysteine. In some very severe cases, a liver transplant may be performed.
N nucleus Ne necrosis K karyorrhexis Py pyknotic nuclei V vacuoles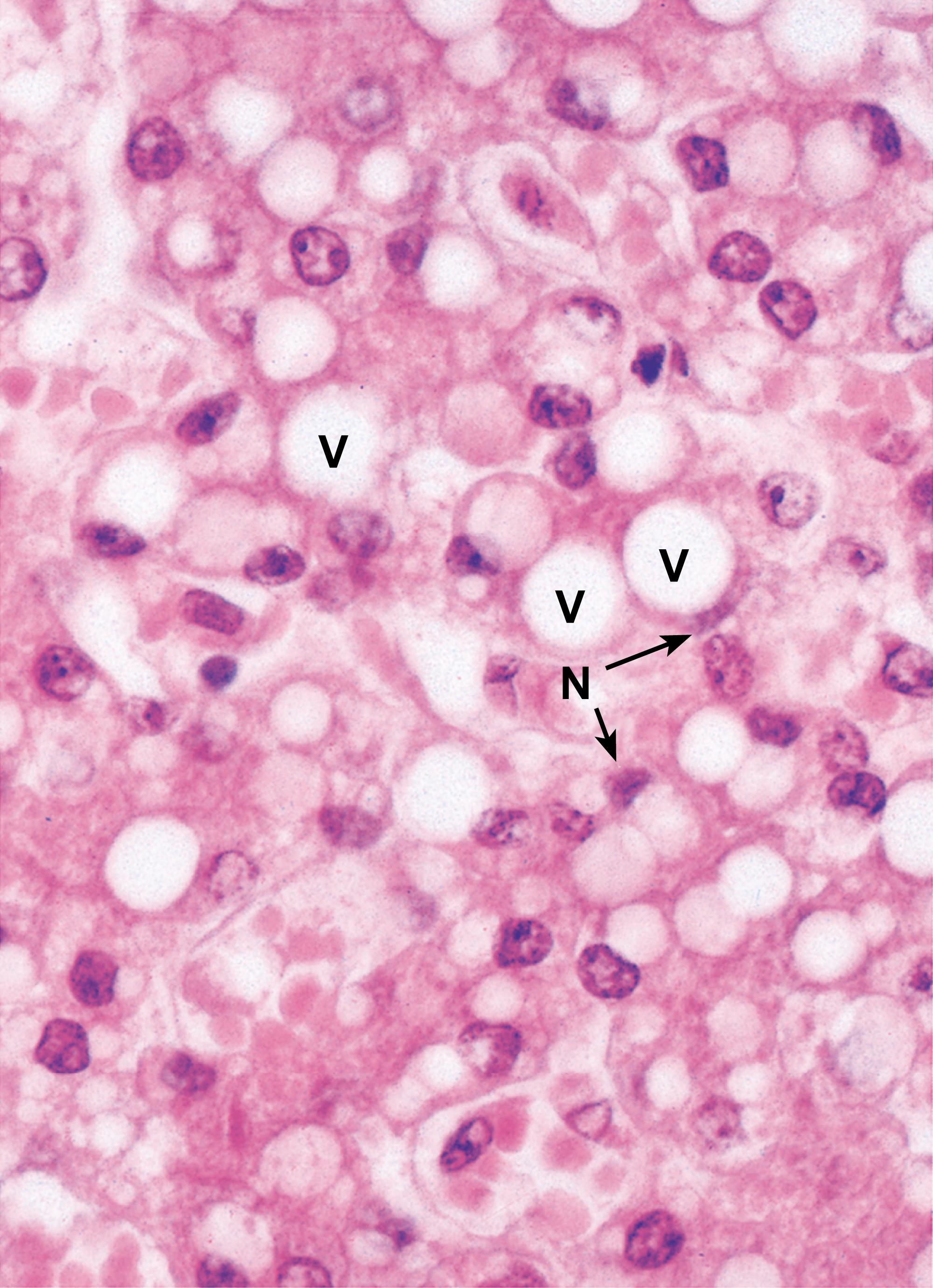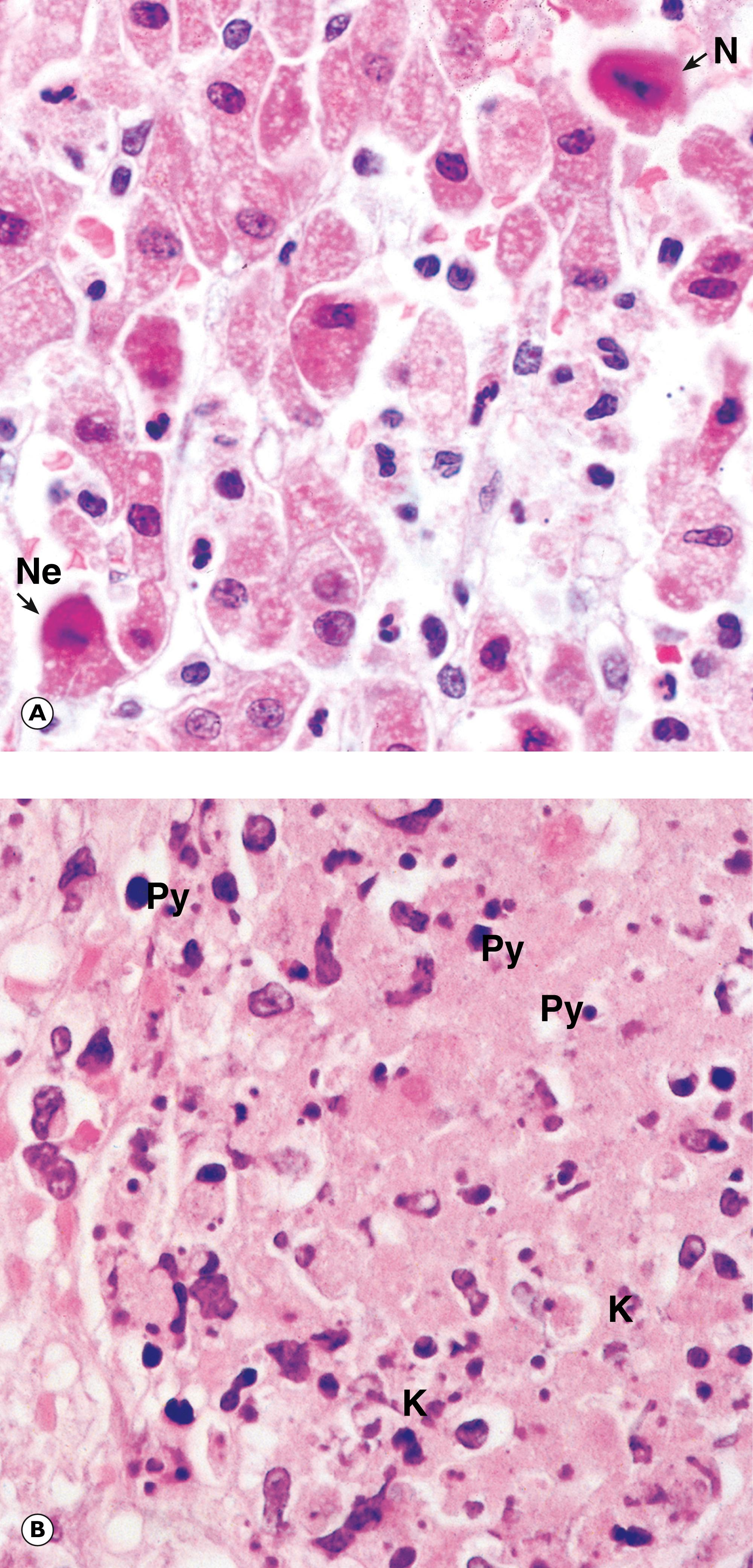 A apoptotic bodies G glomerulus H haemosiderin pigment P phagocytic cells
E hypereosinophilic cytoplasm Ka karyolysis Py pyknosis.
Table 2.1
Pathological process
Causes
Clinical presentation
Main histological features
Figure
Overview of cellular response to injury
2.1, 2.2
Acute reversible cell damage
Acute ischaemia Toxins
Acute failure/malfunction of organ, e.g. acute renal failure
Swelling of cell cytoplasm Vacuolation of cells
2.3, 2.4
Fatty change
Toxins, e.g. alcohol,
Initially normal
Later develop organ failure to varying degrees
Clear vacuole within cells containing excess lipid
May expand to completely fill cytoplasm
2.5, 14.2, 14.5A
Overview of necrosis
2.6
Necrosis – coagulative
Ischaemia
Organ malfunction, e.g. myocardial infarction
Maintenance of tissue architecture, loss of cell nuclei, cytoplasm becomes eosinophilic, eventually develops fibrous scar
2.7A
Necrosis – colliquative
Ischaemia – only affects brain
Organ malfunction, e.g. cerebral infarction (stroke)
Damaged area replaced by cyst filled with fluid, surrounding brain has increased glial cells (gliosis)
2.7B
Necrosis – caseous
Mycobacterial infection (tuberculosis)
Low grade fever, malaise, organ malfunction – can affect any organ, very variable clinical presentation
Classic epithelioid granulomas with central featureless necrotic material, surrounded by a zone of lymphocytes; later there is fibrosis and scarring
5.3, 5.4, 5.5, 5.6, 5.7
Necrosis – fibrinoid
Damage to blood vessel walls due to accelerated hypertension or immune mechanisms
Vessel malfunction – blockage due to thrombosis and/or haemorrhage due to rupture
Deposition of plasma proteins within the vessel wall- appears as an eosinophilic deposit, may be associated with inflammation and/or thrombus
11.2, 11.7
Apoptosis (programmed cell death)
May be physiological or pathological
Destruction of virus-infected cells, graft versus host disease, elimination of old/ worn-out cells
Drop-out of individual cells often surrounded by lymphocytes, apoptotic bodies
2.8
Autolysis
Usually seen in the post mortem setting
Due to enzymatic digestion of tissues.
Intense hypereosinophilia and loss of nuclear definition
2.9
Questions
Chapter 2 Question 1
Which of the following are NOT examples of responses to early cellular damage?
Chapter 2 Question 2
This image represents a process commonly seen in liver biopsies from obese or diabetic individuals or those who drink alcohol to excess. This process is referred to as:
Chapter 2 Question 3
Regarding cell necrosis, which ONE of the following terms refers to nuclear condensation?
You're Reading a Preview
Become a Clinical Tree membership for Full access and enjoy Unlimited articles
If you are a member. Log in here