Viruses are the most common cause of respiratory infection and may result in rhinitis, pharyngitis, laryngotracheitis, bronchitis, bronchiolitis, and, less commonly, pneumonia. Most viral pneumonias in immunocompetent adults are due to influenza viruses; other common viral etiologies include respiratory syncytial virus (RSV) and adenovirus. Immunocompromised hosts are particularly susceptible to pneumonias caused by cytomegalovirus (CMV) and herpesviruses. Risk factors associated with increased incidence and severity of viral infections include very young and old age, crowding, malnutrition, and immunologic disorders. Respiratory viral infections are a much greater problem in developing countries than in developed countries and are one of the leading causes of death in children younger than 5 years. In addition to these acute complications, viral-induced childhood bronchiolitis is well recognized as a precursor of adult bronchiectasis and constrictive bronchiolitis. Airway infection can also induce symptoms of asthma in patients who have this disease, and there is evidence that such infection in childhood is involved in the pathogenesis of asthma in later life. Finally, several viruses, such as Epstein-Barr virus (EBV), herpesvirus 8, and papillomavirus, are implicated in the development of some pulmonary and pleural neoplasms.
The diagnosis of viral pneumonia is often one of exclusion and is based on an absence of sputum production, a failure to culture pathogenic bacteria, a relatively benign clinical presentation, a white blood cell count or procalcitonin level that is normal or only slightly elevated, a chest radiograph that reveals bronchopneumonia or localized interstitial disease, and a lack of response to antibiotic therapy. Confirmation of the diagnosis and identification of the specific causative virus can be accomplished by a variety of means, including culture, serology, detection of viral antigens within respiratory tract secretions or blood by monoclonal antibodies, detection of virus-associated molecules by in situ hybridization or polymerase chain reaction (PCR), and observation of virus-induced changes cytologically or histologically. The sensitivity and specificity of these tests vary and are related to some extent to the underlying organism.
Patterns of Disease
The radiographic manifestations of viral infection are protean and cannot be reliably differentiated from other infections caused by bacterial organisms. Chest radiographs may be normal or often show unilateral or bilateral foci of consolidation, ground-glass opacities, nodular opacities, and bronchial wall thickening ( Figs. 13.1 and 13.2 ). Lobar consolidation, lymphadenopathy, and pleural effusions are uncommon and are not seen in most cases of viral pneumonia.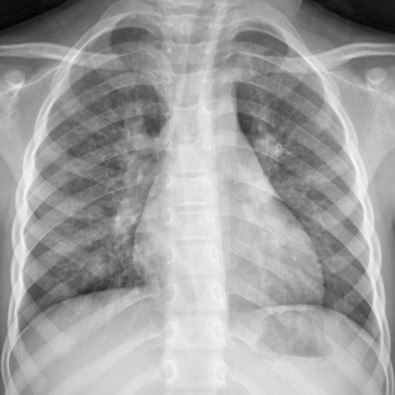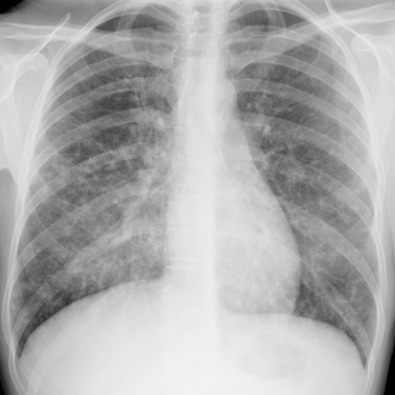 A retrospective study compared the computed tomography (CT) appearances of 93 viral pneumonias and 22 bacterial pneumonias in both immunocompetent and immunocompromised hosts to determine CT patterns that may allow a specific diagnosis. Viral or bacterial pneumonia was determined to be present if a patient had lower respiratory tract symptoms and laboratory evidence of infection. Viral pneumonias manifested with one of five different CT patterns:
1.

A normal CT or a CT with abnormalities unrelated to infection (e.g., linear scar, emphysema, etc.) was the most common CT appearance observed in 35% of patients with viral pneumonia.

2.

Airway centric disease was the second most common CT appearance observed in 33% of patients ( Fig. 13.3 ). Typical features include bronchial wall thickening, bronchiolitis with centrilobular nodules or tree-in-bud opacities, and peribronchial consolidation or ground-glass opacities. Centrilobular nodules typically measure less than 10 mm. Other frequent CT abnormalities that often coexist with airway centric disease include mosaic attenuation, lung hyperinflation, and expiratory air trapping.

3.

Multifocal airspace pattern was the third most common CT appearance observed in 24% of patients ( Fig. 13.4 ). Typical features include multifocal ground-glass opacities and/or consolidation with intervening normal portions of lung. Of importance, bronchial abnormalities, including tree-in-bud opacities, are generally minimal or absent.

4.

Unifocal airspace pattern was uncommon, affecting 6% of patients ( Fig. 13.5 ). Typical features include focal consolidation, ground-glass opacities, or tree-in-bud opacities.

5.

Diffuse airspace pattern was rare, affecting 2% of patients ( Fig. 13.6 ). Typical features include diffuse, relatively uniform bilateral ground-glass opacities, or consolidation.
When these patterns were compared with patients with bacterial pneumonia, the diffuse disease pattern and the presence of a pleural effusion were more commonly associated with bacterial pneumonia, and only the normal CT pattern was more commonly associated with viral pneumonia. Otherwise, the imaging appearances overlapped considerably, and other methods, including patient presentation and laboratory analysis, were used in conjunction with the imaging findings to make a specific diagnosis.
Interlobular septal thickening ( Fig. 13.7 ) is an uncommon manifestation that is usually seen only in certain infections, such as hantavirus or in viral infection that progresses to acute respiratory distress syndrome (ARDS). Significant lymphadenopathy and moderate or large pleural effusions are uncommon in viral infection and should prompt search for an alternative etiology.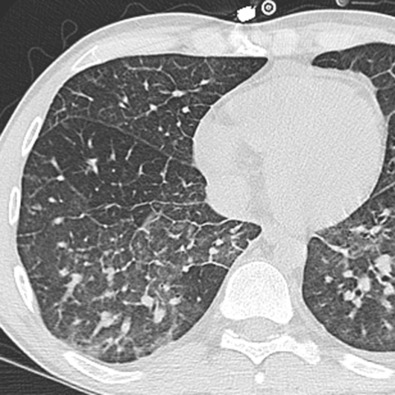 Specific Viruses
Respiratory Syncytial Virus and Parainfluenza Virus
Etiology, Prevalence, and Epidemiology
Respiratory syncytial virus (RSV) and parainfluenza virus account for a high proportion of cases of pneumonia, acute bronchiolitis, and tracheobronchitis (croup) in young children ( Fig. 13.12 ) and occasionally cause lower respiratory tract infection in adults. Both are single-stranded RNA viruses and members of the Paramyxoviridae family.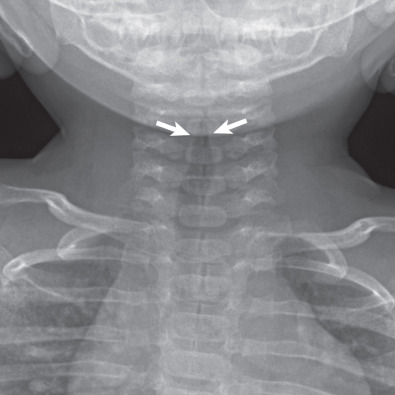 RSV infects virtually all children in the first few years of life and is the most common cause of bronchiolitis and one of the most common causes of pneumonia in these patients. It has been estimated to be responsible for about 90,000 hospitalizations and 4500 deaths of infants and young children per year in the United States. Both viruses are being recognized increasingly in adults, particularly adults who have underlying cardiopulmonary disease, malignancy, or immunodeficiency or who are institutionalized. RSV is highly contagious and may result in high infection rates in relatively enclosed places, such as day care centers and nursing homes.
Clinical Presentation
Symptoms of infection in adults are usually those of a "cold" (rhinitis, pharyngitis, and conjunctivitis). Manifestations of lower respiratory tract involvement (most often cough) are seen in a significant number of patients.
Pathophysiology
Transmission is by airborne droplets or hand-to-surface contact. Viral infection may involve mainly the airways or less commonly the parenchyma. When airway involvement predominates, the most severe changes occur in small membranous and respiratory bronchioles and consist of epithelial degeneration accompanied by a variably intense inflammatory cell infiltrate. Parenchymal involvement results in interstitial pneumonitis or diffuse alveolar damage.
Manifestations of the Disease
Radiography
The radiographic findings in infants and children consist of bronchial wall thickening and peribronchial (central) areas of consolidation (see Fig. 13.1 ). Other common findings include hyperinflation (reflecting the presence of acute bronchiolitis) and patchy bilateral consolidation (reflecting the presence of bronchopneumonia).
The radiographic findings of RSV pneumonia in adults usually consist of patchy bilateral areas of consolidation. Less commonly, patients may present with a bilateral reticulonodular pattern. Rarely, patients may develop acute pneumonia with rapid progression to ARDS.
Computed Tomography
The CT findings of RSV and parainfluenza virus are similar, usually manifesting with an airway centric pattern of disease consisting of bronchial wall thickening, centrilobular nodules, and branching nodular opacities (tree-in-bud pattern), reflecting the presence of bronchiolitis (see Fig. 13.3 ). There are often peribronchiolar ground-glass opacities or areas of consolidation, owing to bronchopneumonia ( Fig. 13.13 ). Inspiratory CT may show mosaic attenuation, and expiratory CT may show air trapping. Less common manifestations include multifocal airspace or focal airspace patterns without appreciable bronchial or small airways involvement.
Infection with RSV and parainfluenza virus is common in infants and children; infection is less common in adults.

Risk factors for RSV bronchiolitis include young age (infants and young children).

The most common radiologic manifestations include:

Hyperinflation

Bronchial wall thickening and peribronchial opacities

Steeple sign in croup

Risk factors for pneumonia include the extremes of age (infants, young children, the elderly) and chronic illness.

The most common CT manifestations include:

Airway centric pattern of disease with bronchial wall thickening, centrilobular nodules, and tree-in-bud opacities

Patchy peribronchial consolidation or ground-glass opacities