The lichenoid reaction pattern ("interface dermatitis")
Introduction
The lichenoid reaction pattern (lichenoid tissue reaction, interface dermatitis) is characterized histologically by epidermal basal cell damage. This takes the form of cell death and/or vacuolar change (liquefaction degeneration). The cell death usually involves only scattered cells in the basal layer that become shrunken with eosinophilic cytoplasm. These cells, which have been called Civatte bodies, often contain pyknotic nuclear remnants. Sometimes, fine focusing up and down will reveal smaller cell fragments, often without nuclear remnants, adjacent to the more obvious Civatte bodies. These smaller fragments have separated from the larger bodies during the process of cell death. Ultrastructural studies have shown that the basal cells in the lichenoid reaction pattern usually die by apoptosis, a form of cell death that is quite distinct morphologically from necrosis.
Before discussing the features of apoptosis, mention will be made of the term interface dermatitis , which is widely used. It has been defined as a dermatosis in which the infiltrate (usually composed mostly of lymphocytes) appears "to obscure the junction when sections are observed at scanning magnification." The term is not used uniformly or consistently. Some apply it to most dermatoses with the lichenoid tissue reaction. Others use it for the subgroup in which the infiltrate truly obscures the interface (erythema multiforme, fixed drug eruption, paraneoplastic pemphigus, some cases of subacute lupus erythematosus and pityriasis lichenoides). The infiltrate may obscure the interface in lymphomatoid papulosis, but basal cell damage is not invariable. Many apply the term, also, to lichen planus and variants, in which the infiltrate characteristically "hugs" the basal layer without much extension into the epidermis beyond the basal layer. Crowson et al. have expanded the concept of interface dermatitis to include neutrophilic and lymphohistiocytic forms, in addition to the traditional lymphocytic type. They also subdivide the lymphocytic type into a cell-poor type and a cell-rich type. Erythema multiforme, which they list as a cell-poor variant, is sometimes quite "cell rich." The author prefers the traditional term lichenoid ' for this group of dermatoses because it is applicable more consistently than interface dermatitis and it is less likely to be applied as a "final sign-out diagnosis," which is often the case with the term interface dermatitis. The term is so entrenched that it is unlikely to disappear from the lexicon of dermatopathology.
In apoptosis , single cells become condensed and then fragment into small bodies by an active budding process ( Fig. 4.1 ). In the skin, these condensed apoptotic bodies are known as Civatte bodies (discussed previously). The smaller apoptotic bodies, some of which are beyond the resolution of the light microscope, are usually phagocytosed quickly by adjacent parenchymal cells or by tissue macrophages. Cell membranes and organelles remain intact for some time in apoptosis, in contradistinction to necrosis where breakdown of these structures is an integral and prominent part of the process. Keratinocytes contain tonofilaments that act as a "straitjacket" within the cell, and therefore budding and fragmentation are less complete in the skin than they are in other cells in the body undergoing death by apoptosis. This is particularly so if the keratinocyte has accumulated filaments in its cytoplasm, as occurs with its progressive maturation in the epidermis. The term dyskeratotic cell is usually used for these degenerate keratinocytes. The apoptotic bodies that are rich in tonofilaments are usually larger than the others; they tend to "resist" phagocytosis by parenchymal cells, although some are phagocytosed by macrophages. Others are extruded into the papillary dermis, where they are known as colloid bodies . These bodies appear to trap immunoglobulins nonspecifically, particularly the immunoglobulin M (IgM) molecule, which is larger than the others. Apoptotic cells can be labeled by the TUNEL (terminal transferase-mediated dUTP nick end labeling) reaction.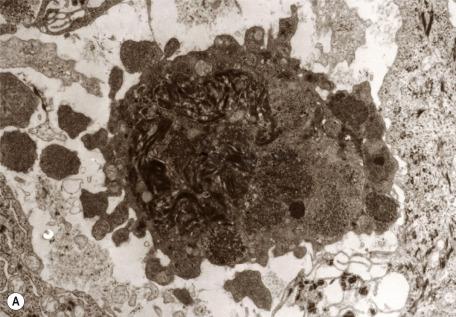 Some of the diseases included within the lichenoid reaction pattern show necrosis of the epidermis rather than apoptosis; in others, the cells have accumulated so many cytoplasmic filaments before death that the actual mechanism—apoptosis or necrosis—cannot be discerned by light or electron microscopy. The term filamentous degeneration has been suggested for these cells ; on light microscopy, they are referred to as dyskeratotic cells (discussed previously). Some dermatopathologists use the term necrotic keratinocyte for these cells and also for keratinocytes that are obviously apoptotic. Note that apoptotic keratinocytes have been seen in normal skin, indicating that cell deletion also occurs as a normal physiological phenomenon. As Afford and Randhawa eloquently stated, "Apoptosis is the genetically regulated form of cell death that permits the safe disposal of cells at the point in time when they have fulfilled their intended biological function." It also plays a role in the elimination of the inflammatory infiltrate at the end stages of wound healing.
Although it is beyond the scope of this book, readers interested in apoptosis and the intricate mechanisms of its control should read the excellent studies published on this topic. The various "death receptors," essential effectors of any programmed cell death, were reviewed in 2003. An important member of this group is tumor necrosis factor–related apoptosis-inducing ligand (TRAIL), which preferentially induces apoptosis in transformed but not normal cells. It is expressed in normal skin and cutaneous inflammatory diseases. Another cell component that plays a role in apoptosis is the mitochondrion. This topic was reviewed in 2006.
Ackerman held a minority view that apoptosis is a type of necrosis. In reality, each is a distinctive form of cell death.
Vacuolar change (liquefaction degeneration) is often an integral part of the basal damage in the lichenoid reaction. Sometimes it is more prominent than the cell death. It results from intracellular vacuole formation and edema, as well as from separation of the lamina densa from the plasma membrane of the basal cells. Vacuolar change is usually prominent in lupus erythematosus, particularly the acute systemic form, and in dermatomyositis and some drug reactions.
As a consequence of the basal cell damage, there is variable melanin incontinence resulting from interference with melanin transfer from melanocytes to keratinocytes, as well as from the death of cells in the basal layer. Melanin incontinence is particularly prominent in some drug-induced and solar-related lichenoid lesions, as well as in patients with marked racial pigmentation.
Another feature of the lichenoid reaction pattern is the inflammatory cell infiltrate . This varies in composition, density, and distribution according to the disease. An assessment of these characteristics is important in distinguishing the various lichenoid dermatoses. Because apoptosis, unlike necrosis, does not itself evoke an inflammatory response, it can be surmised that the infiltrate in those diseases with prominent apoptosis is of pathogenetic significance and not a secondary event. Furthermore, apoptosis is the usual method of cell death resulting from cell-mediated mechanisms, whereas necrosis and possibly vacuolar change result from humoral factors, including the deposition of immune complexes.
One study has given some insight into the possible mechanisms involved in the variability of expression of the lichenoid tissue reaction in several of the diseases within this group. The study examined the patterns of expression of the intercellular adhesion molecule-1 (ICAM-1). Keratinocytes in normal epidermis have a low constitutive expression of ICAM-1, rendering the normal epidermis resistant to interaction with leukocytes. Therefore, induction of ICAM-1 expression may be an important factor in the induction of leukocyte-dependent damage to keratinocytes. In lichen planus, ICAM-1 expression is limited to basal keratinocytes, whereas in subacute cutaneous lupus erythematosus there is diffuse epidermal ICAM-1 expression, sometimes with basal accentuation. This pattern is induced by ultraviolet radiation and possibly mediated by tumor necrosis factor-α (TNF-α). In erythema multiforme, there is strong basal expression of ICAM-1, with cell surface accentuation and similar pockets of suprabasal expression, probably induced by herpes simplex virus infection.
Other molecules appear to play important roles in lichenoid dermatitis. IKKB, a subunit of the IκB kinase complex, is required for activation of NF-κB, a protein that controls DNA transcription. In an animal model, overexpression of IKKβ results in chronic inflammation with macrophages and CD45 + cells, interface dermatitis, and increased production of inflammatory cytokines by keratinocytes. This process apparently occurs independently of T and B lymphocytes. The type 1 interferon (IFN) system plays an important role in the interface dermatitis associated with autoimmune diseases, mediating a cytotoxic attack on basal keratinocytes. Evidence for this is the finding of IFN-inducible chemokine CXCL10 expression in the same location where CXCR3 + cytotoxic lymphocytes invade the epidermal basilar layer. Using a model of reconstructed human epidermis, Farley et al. explored the important roles of the Fas ligand (the expression of which by donor T cells may be essential for cutaneous acute graft-versus-host reaction) and IFN-γ. These investigators found that cytoid body formation and epidermal expression of ICAM-1 could be attributed to IFN-γ, whereas hypergranulosis was triggered by the Fas ligand, and vacuolar degeneration of the basilar layer appeared to be triggered by both the Fas ligand and IFN-γ.
In summary, the lichenoid reaction pattern includes a heterogeneous group of diseases that have in common basal cell damage. The histogenesis is also diverse and includes cell-mediated and humoral immune reactions and possibly ischemia in one condition. A discussion of the mechanisms involved in producing apoptosis is included in several of the diseases that follow. Scattered apoptotic keratinocytes can also be seen in the sunburn reaction in response to ultraviolet radiation ; these are known as "sunburn cells." A specific histological diagnosis can usually be made by attention to such factors as:
the nature and extent of the basal damage;

the nature, composition, and distribution of the inflammatory reaction;

the amount of melanin incontinence that results from the basal damage;

the coexistence of another tissue reaction ; and

other individual characteristics.
These points are considered further in Tables 4.1–4.3 .
Table 4.1
| Disease | Histopathological features |
| --- | --- |
| Lichen planus | Prominent Civatte bodies, band-like inflammatory infiltrate, wedge-shaped hypergranulosis. Hypertrophic form has changes limited to the tips of the acanthotic downgrowths and often superadded lichen simplex chronicus. The infiltrate extends around hair follicles in lichen planopilaris. Pigment incontinence is conspicuous in erythema dyschromicum perstans. |
| Lichen nitidus | Focal (papular) lichenoid lesions; some giant cells; dermal infiltrate often "clasped" by acanthotic downgrowths. |
| Lichen striatus | Clinically linear; irregular and discontinuous lichenoid reaction; infiltrate sometimes around follicles and sweat glands. |
| Lichen planus–like keratosis | Solitary; prominent Civatte body formation; solar lentigo often at margins. |
| Lichenoid drug eruptions | Focal parakeratosis; eosinophils, plasma cells and melanin incontinence may be features. Deep extension of the infiltrate occurs in photolichenoid lesions. |
| Fixed drug eruptions | Interface-obscuring infiltrate, often extends deeper than erythema multiforme; cell death often above basal layer; neutrophils often present. |
| Erythema multiforme | Interface-obscuring infiltrate; sometimes subepidermal vesiculation and variable epidermal cell death. |
| Graft-versus-host disease | Basal vacuolation; scattered apoptotic keratinocytes, sometimes with attached lymphocytes ("satellite cell necrosis"); variable lymphocytic infiltrate. |
| Lupus erythematosus | Mixed vacuolar change and Civatte bodies. Systemic LE has prominent vacuolar change and minimal cell death. Discoid lupus away from the face has more cell death and superficial and deep infiltrate; mucin; follicular plugging; basement membrane thickening. Some cases resemble erythema multiforme with cell death at all layers. |
| Dermatomyositis | May resemble acute lupus with vacuolar change, epidermal atrophy, some dermal mucin; infiltrate usually superficial and often sparse. |
| Poikilodermas | Vacuolar change; telangiectasia; pigment incontinence; late dermal sclerosis. |
| Pityriasis lichenoides | Acute form combines lymphocytic vasculitis with epidermal cell death; interface-obscuring infiltrate; focal hemorrhage; focal parakeratosis. |
| Paraneoplastic pemphigus | Erythema multiforme–like changes with suprabasal acantholysis and clefting; subepidermal clefting sometimes present. |
Table 4.2
| Pathological change | Possible diagnoses |
| --- | --- |
| Vacuolar change | Lupus erythematosus, dermatomyositis, drugs and poikiloderma |
| Interface-obscuring infiltrate | Erythema multiforme, fixed drug eruption, pityriasis lichenoides (acute), paraneoplastic pemphigus, lupus erythematosus (some) |
| Purpura | Lichenoid purpura |
| Cornoid lamella | Porokeratosis |
| Deep dermal infiltrate | Lupus erythematosus, syphilis, drugs, photolichenoid eruption |
| "Satellite cell necrosis" | Graft-versus-host disease, eruption of lymphocyte recovery, erythema multiforme, paraneoplastic pemphigus, regressing plane warts, drug reactions |
| High apoptosis | Phototoxic reactions, adult-onset Still's disease, acrokeratosis paraneoplastica |
| Prominent pigment incontinence | Poikiloderma, drugs, "racial pigmentation" and an associated lichenoid reaction, erythema dyschromicum perstans and related entities |
| Eccrine duct involvement | Erythema multiforme (drug induced), lichen striatus, keratosis lichenoides chronica, periflexural exanthem of childhood |
Table 4.3
| Additional pattern | Possible diagnoses |
| --- | --- |
| Spongiotic | Drug reactions (see spongiotic drug reactions), lichenoid contact dermatitis, lichen striatus, late-stage pityriasis rosea, superantigen 'id' reactions |
| Granulomatous | Lichen nitidus, lichen striatus (rare), lichenoid sarcoidosis, hepatobiliary disease, endocrinopathies, infective reactions including secondary syphilis, herpes zoster infection, HIV infection, tinea capitis, Mycobacterium marinum , and M. haemophilum ; drug reactions (often in setting of Crohn's disease or rheumatoid arthritis—atenolol, allopurinol, captopril, cimetidine, enalapril, hydroxychloroquine, simvastatin, sulfa drugs, tetracycline, diclofenac, erythropoietin) |
| Vasculitic | Pityriasis lichenoides, perniosis (some cases), pigmented purpuric dermatosis (lichenoid variant), persistent viral reactions, including herpes simplex |
| Vasculitic/spongiotic | Gianotti–Crosti syndrome, some other viral/putative viral diseases, rare drug reactions |
A discussion of the various lichenoid (interface) dermatoses follows. The conditions listed as other lichenoid (interface) diseases are discussed only briefly because they are considered in detail in other chapters.