Mucosal and Nodal Disease of the Head and Neck
The approach to this chapter on mucosal disease is divided along disease categories combining all regions except for the discussion of malignant masses. Because the basis for discussing cancers with clinicians is rooted in the TNM staging of the American Joint Commission on Cancer, which is itself subdivided by anatomic location, the chapter will analyze squamous cell carcinoma based on sites of origin.
An old adage avers that adding alliteration to an authoritative authorship augments educational attainment; all of us authors agree. Can you find 10 examples in this chapter?
Anatomy
The anatomy of the mucosal layer of the head and neck will be described along general regions of interest.
Congenital Lesions
Although the location of the following congenital lesions varies as they ascend or descend in the neck, they will be presented here more or less in a top-down order.
Lesions of the Aerodigestive System and Lymph Nodes
Inflammatory Pharyngeal Disease
Typically, pharyngeal mucosal based thickening is seen in patients presenting with fever and sore throat. Because this is an easily made clinical diagnosis in the proper setting, no imaging is typically required. Nonetheless, occasionally one may find an associated peritonsillar abscess in a patient who does not respond to antibiotics for tonsillitis. The typical microorganisms that cause a tonsillar abscess include Streptococcus pneumoniae, Streptococcus viridans, and occasionally gram-negative anaerobes. Often one is dealing with multiple bugs at once.
If a fistula in the tonsil is identified, consider a branchial cleft anomaly as a possible cause. Typically, the second branchial cleft fistulas drain to the tonsil and may or may not be associated with a cystic lesion in the soft tissues of the neck near the angle of the mandible. Actinomycosis is an unusual cause of peritonsillar fistulas.
Imaging is also performed to look for complications including organized abscess formation or retropharyngeal extension of inflammation ( Fig. 13-15 ). Pharyngitis and retropharyngitis can lead to Grisel syndrome—torticollis with rotatory subluxation of C1 on C2 secondary to an adjacent inflammatory mass. More often, one sees retropharyngeal lymphadenitis because of pharyngitis or tonsillitis.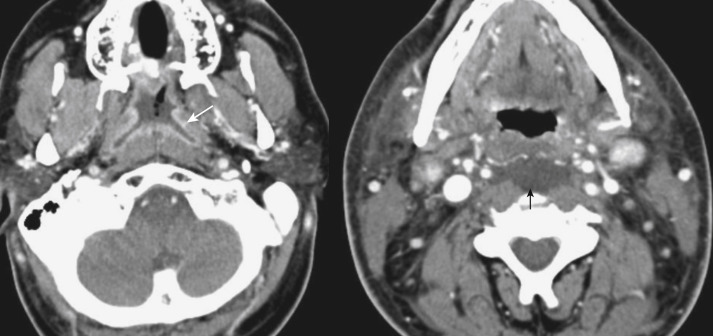 Calcifications in the adenoids and tonsils (tonsilloliths) are not uncommon after infections. They simply symbolize sequelae of successful solution of such sickness. These are of no import and do not implicate granulomatous infections.
Abscesses have low-density centers and a peripheral rim of enhancement on CT. Adjacent inflammation of the fat may be due to neighboring cellulitis, myositis, and fasciitis in the neck. On MR, inflammatory lesions are very bright on T2WI because of the marked amount of edema and swelling associated with lesions such as abscesses. As in the brain, the DWI of a neck abscess may show restricted diffusion. A peritonsillar location is the most common site of abscess in children, followed by the retropharyngeal region. More often, what one is calling a retropharyngeal abscess is really necrotizing retropharyngeal lymphadenitis caused by pharyngitis or tonsillitis and need not be drained surgically. If the collection crosses the midline, call it an abscess. If paramedian along the expected location of retropharyngeal nodes, call it necrotizing adenitis. A phlegmon can be considered an immature abscess that can be arrested with early appropriate therapy.
Submucosal cysts that occur in the nasopharynx ( Box 13-1 ) as sequela of previous infections are most often seen around the fossa of Rosenmüller. These cysts usually have low signal intensity on T1WI and high signal intensity on T2WI. Lymphoid hyperplasia can occur as a response to inflammation in adjacent regions. When this is seen, check for pharyngitis or tonsillitis in children, mononucleosis in hormonally active teenagers, HIV infection in adults, and cigarette butts in the ashtrays of your waiting room. Calcifications in the lymphoid tissue of Waldeyer ring, including the adenoids, are not uncommon. They simply symbolize sequelae of successful sanatory of such sickness.
Adenoidal hypertrophy (e.g., HIV)

Pharyngitis

Infected Tornwaldt cyst

Mucous retention cyst/submucosal cysts

Infectious mononucleosis

Retropharyngeal abscess/adenitis
HIV, Human immunodeficiency virus.
Adenitis
Lymphadenitis refers to inflammation of lymph node(s). This can be reactive, as a response to adjacent infectious process such as pharyngitis. Primary inflammation/infection of the lymph node(s) can also occur. Enlargement, abnormal enhancement, intranodal cystic/necrotic change, calcifications, and perinodal stranding should alert you to the presence of lymphadenopathy, although the cause is not always clear without the clinical context and biopsy. Children seem to have a predilection for dramatic adenitis. Posterior triangle reactive adenopathy often accompanies the ubiquitous middle ear infections of young childhood.
You're Reading a Preview
Become a Clinical Tree membership for Full access and enjoy Unlimited articles
If you are a member. Log in here