Airway and Parenchymal Anomalies
Congenital lung disease remains a confusing topic owing to ever-changing histopathologic understanding of the various entities and frequent updates to antiquated clinical and pathologic classification schemes. Past classifications have been based on thoracic anatomic structures, dividing lesions into congenital malformations of the trachea, bronchi, lung, and pulmonary vasculature. Such divisions are controversial because the embryologic basis of these malformations is not clearly understood, as more recent investigations have demonstrated significant overlap or coexistence of histopathologic features among these entities. The current literature points instead to a spectrum of congenital bronchopulmonary malformations (CBM) rather than separate individual entities, which classically included congenital pulmonary airway malformation (CPAM) (formerly congenital cystic adenomatoid malformation [CCAM]), intralobar and extralobar sequestration, and foregut cysts. All exhibit some failure of budding, differentiation, or separation from the primitive foregut between the 3rd and 24th weeks of gestation, with or without superimposed airway obstruction.
Most of these entities are now diagnosed with prenatal imaging and regress prior to birth. However, some can remain asymptomatic during childhood and are diagnosed in the adolescent or adult. This leads to controversy over perinatal management. In select cases, in utero or early postnatal surgery may be required for large lesions that contribute to significant fetal compromise. In this chapter we limit our discussion to developmental abnormalities that are discovered in adults. Diagnosis of most CBMs can be achieved with radiography, prenatal ultrasound, computed tomography (CT), and magnetic resonance imaging (MRI). Management of CBMs is variable, ranging from conservative observation to surgical excision, and is usually dependent on symptomatology or the potential risk of complications.
Anomalous Tracheobronchial Branching
Accessory Cardiac Bronchus
An accessory cardiac bronchus (ACB) is a mucosa-lined supernumerary bronchus that arises from the medial wall of the right main bronchus or bronchus intermedius. The bronchus courses medially and caudally for 1 to 5 cm. The presence of mural cartilage distinguishes ACB from a diverticulum. ACBs usually end blindly but may be associated with small amounts of abnormal pulmonary parenchyma (a so-called cardiac lobe). The anomaly occurs in up to 0.5% of the general population.
Clinical Presentation
The vast majority of adult patients are asymptomatic. The most common complications are cough and hemoptysis secondary to infection or rarely carcinoma. Pneumothorax may result from traumatic injury to the ACB during bronchoscopy.
Manifestations of the Disease
Computed Tomography.
The diagnosis of an accessory cardiac bronchus is best accomplished with CT. As with other bronchial anomalies, the course of the ACB is best depicted with reformation techniques, such as multiplanar reconstruction, volume rendering, or virtual bronchoscopy ( Fig. 7.3 ).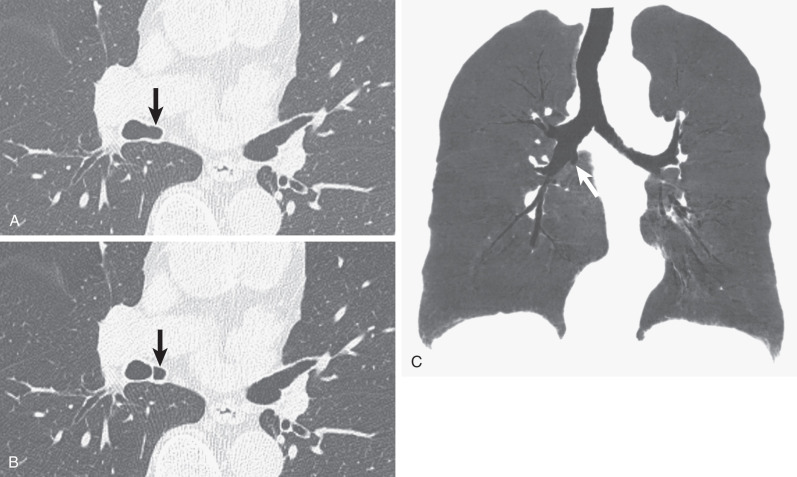 Displaced Bronchi
Approximately 10% of individuals have displaced segmental or subsegmental bronchi in the same lobe, which are best recognized on CT. Less commonly, a segmental or subsegmental bronchus originates from an adjacent lobe. The lung ventilated by the displaced bronchus is normal, but CT often demonstrates an incomplete fissure between the adjacent lobes. Occasionally, segmental bronchi may be absent (bronchial agenesis). Segmental bronchial agenesis occurs most commonly in the right upper lobe. Displaced segmental and subsegmental bronchi are asymptomatic and are found incidentally on CT or at bronchoscopy.
Bronchopulmonary Isomerism and Heterotaxy
Thoracoabdominal visceral relationships are described in terms of situs, depending on the position of the cardiac atria and abdominal viscera relative to the midline. Situs solitus, situs inversus, and situs ambiguous (so-called heterotaxy) have been used to describe the normal, mirror image of normal, and non–mirror-image deviation from the normal left-right visceroatrial configuration, respectively. Visceroatrial situs should include a description of the position of the upper lobe bronchi to their ipsilateral pulmonary arteries—the most reliable imaging feature of bronchial situs, and thus atrial morphology. The morphologic right lung is defined when the upper lobe bronchus is positioned above the ipsilateral pulmonary artery in the hilum (eparterial). The morphologic left lung is supplied by a hyparterial bronchus, which courses below the ipsilateral pulmonary artery.
Heterotaxy syndromes are frequently associated with bronchopulmonary isomerism—an identical pattern of branching and lobar configuration in each lung. Bilateral eparterial and hyparterial bronchi characterize right and left bronchial isomerism (bilateral right- and left-sidedness), respectively. Right isomerism (bilateral right-sidedness) typically manifests with bilateral trilobed lungs and eparterial bronchi, bilateral right atria, right aortic arch, and asplenia (or some functional loss). Right isomerism is commonly associated with severe congenital heart disease with high mortality rates. Left isomerism typically manifests with bilateral bilobed lungs and hyparterial bronchi, bilateral left atria, and polysplenia (although this feature is variable). Other commonly associated (although variable) findings include midline liver and intestinal malrotation in both forms of heterotaxy. Left isomerism may also manifest with azygos or hemiazygos continuation of the inferior vena cava (IVC) and a truncated pancreas.
Etiology, Prevalence, and Epidemiology
Heterotaxy syndrome is relatively uncommon, occurring in 1 of 10,000 births. It is difficult to establish the exact prevalence of left isomerism, as patients without symptomatic congenital heart disease may be incidentally diagnosed in adulthood. Situs inversus has a prevalence of 0.01% of the population. Although likely multifactorial, the etiology of isomerism is probably related to defects in various genes (e.g., ZIC3 , Pitx-2, Cited-2 , Sonic hedgehog, Lefty-1 ) that regulate right- or left-sided patterns during early embryogenesis. Furthermore, isomerism is associated with other defects included as part of the spectrum of ciliopathies (e.g., immotile cilia syndrome, sinonasal abnormalities, bronchiectasis, biliary atresia, and brain malformations).
Clinical Presentation
Symptoms of bronchopulmonary isomerism are dependent on the severity of associated abnormalities and may range from intractable wheezing and infantile heart murmurs to cyanosis and heart failure. More common in males, right isomerism confers a poorer prognosis and frequent association with asplenia (leading to immune compromise and sepsis) and severe cyanotic congenital heart lesions (e.g., common atrioventricular canal, monoventricle, transposition of the great arteries, and total anomalous pulmonary venous return). Left isomerism (bilateral left-sidedness) is often associated with polysplenia, and although it has an overall better prognosis compared with right isomerism, there is still a 60% mortality in the first year of life. Congenital heart defects (most commonly partial anomalous pulmonary venous return, atrial septal defect, and atrioventricular canal) are less frequent or less severe compared with those of right isomerism, but patients may still present with congestive heart failure from left-to-right shunts. Patients may also present with midgut volvulus related to intestinal malrotation.